TRANSLATION :
Forwarded from Сolonelsand Soldiers of the Wagner PMCs are on the outskirts of Artemivsk, where intense hostilities continue. There has been no serious progress in the city so far. Troops are waiting for the Zaitsevo-Kodoma line to be breached.
There is also a report from the scene at the link:
https://t.me/riafan_everywhere/12510 TelegramMEDIATE FAN 🇺🇺🇦 What's going on in Bakhmut
In the eastern outskirts of the former Artemovsk, a fierce confrontation between Russian units and the AFU continues.
The Kiev regime's army is trying to identify the exact locations of Donbass defenders using UAVs and using electronic warfare equipment from NATO countries. Nevertheless, Russian fighters continue to pursue their objective and force the enemy to withdraw artillery from the line of contact.
Read more in our report.
#Bahmut #Donbass #reporting
@riafan_everywhere
Source : ЧВК Медиа
Link : https://t.me/chvkmedia/58641
Date : 2022-08-29T00:25:00.000Z
ORIGINAL :
Бойцы ЧВК "Вагнер" на окраинах Артемовска, где продолжаются интенсивные боевые действия. Серьезного продвижения в городе пока нет. Войска ждут, пока будет взломана линия Зайцево-Кодема.
По ссылке также есть репортаж с места:

https://t.me/riafan_everywhere/12510
Telegram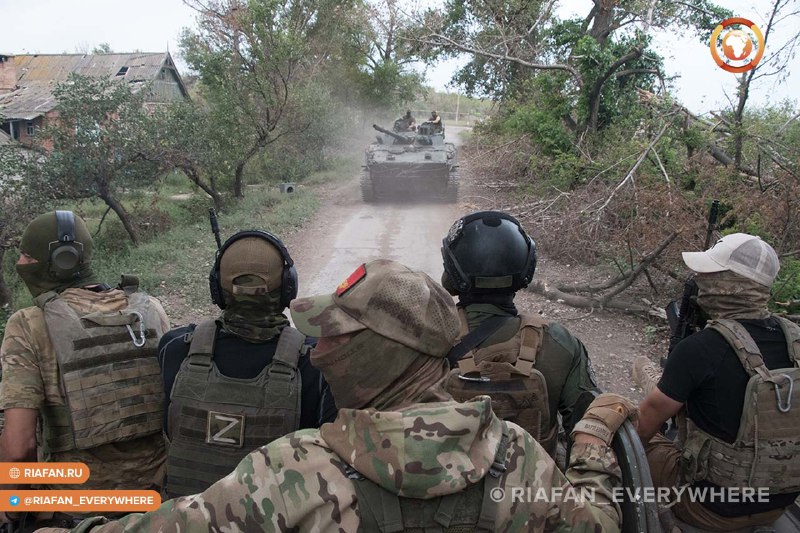 МЕЖДУНАРОДНЫЙ ФАН
🇷🇺🇺🇦 Что происходит в Бахмуте
На восточных окраинах бывшего Артемовска продолжается ожесточенное противостояние между российскими подразделениями и ВСУ.
Армия киевского режима пытается выявить точные места дислокации защитников Донбасса с помощью БПЛА и применяет средства радиоэлектронной борьбы из стран НАТО. Тем не менее российские бойцы продолжают идти к своей цели и вынуждают врага отводить артиллерию от линии соприкосновения.
Подробности — в нашем репортаже.
#Бахмут #Донбасс #репортаж
@riafan_everywhere